Friday, January 23rd 6:30-9:00 pm
Saturday, January 24th 8:45 am-3:00 pm


Putnam Baptist Church, Shelby, NC

Who is controlling the paintbrush of your marriage?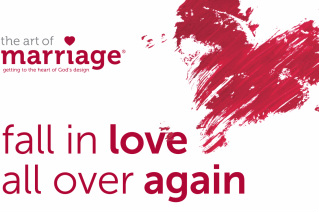 Your marriage and the marriages around you are colored by personalities, passions, and experience. Making marriage work is a divinely inspired art form.

For more than three decades, FamilyLife® has been helping couples understand God's plan for relationships. Now, in this video-guided event, The Art of Marriage, we weave together expert teaching, engaging stories, man-on-the street interviews, humorous vignettes, and much more to portray both the challenges and the beauty of God's design.

The Art of Marriage® consists of six video sessions that cover the following topics:

Session 1: Love Happens (Purpose of Marriage)

Session 2: Love Fades (Drift to Isolation)

Session 3: Love Dances (Roles)

Session 4: Love Interrupted (Communication)

Session 5: Love Sizzles (Romance and Sex)

Session 6: Love Always (Legacy)


---
The Art of Marriage consists of six video sessions and an accompanying manual that provides couples with projects to help apply the principles taught during each session. The manual is also designed for couples to use after the event by offering articles, date night ideas, and useful tips for continuing to strengthen their marriage.
This new resource will help couples in your church and community build the God-honoring marriages that they desire. It also brings a fresh approach to a video event by weaving together a variety of elements that help the principles come to life:
engaging stories
real-life testimonies
man-on-the-street interviews
humorous vignettes
Conference Schedule

Friday 6:30pm - 9pm
(Childcare Check-in begins as early as 6:00)
6:00 Doors Open with Music, Photo Booth, Desserts and Coffee!
6:00 - 8:00 Be silly with each other in the photo booth and take home a photo to remember your weekend!
6:45 - 7:45 Session 1: LOVE happens
7:45 - 8:00 Break - Last chance for the photo booth!
8:00 - 9:00 Session 2: LOVE fades
9:00 Dismiss for Project One


Saturday 8:45am -3pm
(Childcare Check-in begins at 8:15am)
8:00 Doors Open with Music, Breakfast and Coffee!
8:45 - 9:45 Session 3: LOVE dances
9:45 - 10:45 Break for Project Two
10:45 - 11:45 Session 4: LOVE interrupted
11:45 - 12:45 Break for Lunch and Project Three
12:45 - 1:45 Session 5: LOVE sizzles
1:45 - 2:00 Break
2:00 - 3:00 Session 6: LOVE always
3:00 Dismiss - Please turn in evaluation forms

Return to each session on time to not miss the giveaways (you must be present to win)!


The Art of Marriage at Putnam Resources