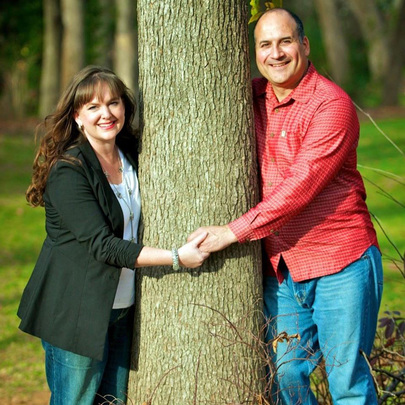 ---
​John and Ginger Oriente have been married since 2003 and they reside in Shelby, NC. They are the the founders and lay leaders of "All In Marriage", a multi-pronged mentored based marriage ministry. They are a blended marriage with six his, hers and our children. ​

They were separated for nine months starting just four months into their marriage. The trials of step family living had really taken a toll on their marriage. Through obedience to God's Word as it pertains to marriage they tried again to repair their marriage. They were together for eight months, and once again separated for another six months. They signed divorce papers, but could never get a peace from God to turn them in.

After reconciling a second time based on God's desire to see their marriage healed, they have remained together and growing in God's plan for marriage. They have attended six FamilyLife's Weekend to Remember conferences, three FamilyLife's Love Like You Mean It Cruises, Festival of Marriage, read countless books and sat through hundreds of hours of the best marriage DVD curriculums available.

In 2009, they began hosting a marriage small group in their home, and in 2011 they approached their lead Pastor with the vision of a lay-led mentor based marriage ministry. With the blessing of their Pastor and a steering committee, they have worked to build a marriage ministry to meet every marriage at every stage.

Through All In Marriage, they help to prepare mentor couples that can walk other couples through the types of problems they have faced in their marriages. They also lead a weekly marriage small group, a monthly date night for couples in the community with free childcare and an on-site marriage conference each year.

​John and Ginger have had to deal with and overcome virtually every type of difficulty that can face a marriage. God has turned their many mistakes and misery into a ministry that offers hope for every marriage and every problem. The same power that resurrected Jesus from the grave, resurrected their completely dead marriage and turned it into a transformed marriage, family and ministry. It is their passion and desire to help others experience the same hope and power for their marriage.